Custom Search
INTRODUCING...THE ATLANTIC BOTTLENOSE DOLPHIN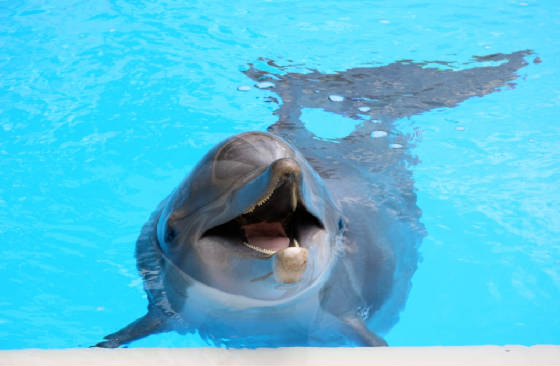 The Earth's oceans support approximately 33 species of salt water dolphins, one of which is the Atlantic Bottlenose Dolphin, Tursiops truncatus. The term "bottlenose" is actually a misnomer. The nose (or "blowhole") of the dolphin is no where near the bottle-shaped rostrum, or beak. The word "dolphin" is derived from the Ancient Greek, meaning "fish with a womb". The Atlantic Bottlenose Dolphin was first described by Montagu in 1821. It lives in temperate and tropical waters, absent only from 45 degrees latitude to the poles in both the northern hemisphere and the southern hemisphere. It inhabits coastal areas, bays, estuaries and river mouths as well as living offshore along the oceans' continental shelves. Its charming underbite and large eyes make it a favorite of all who come upon it in the wild or view it in captivity. It is a mammal and should not be confused with the dolphin fish known as mahi mahi. Additionally, it should not be confused with a porpoise, also a mammal, but quite different in appearance.This site is dedicated to the understanding and conservation of this beautiful animal and to the presentation of information and current research on the both the Atlantic Bottlenose Dolphin, and dolphins in general, in a reader-friendly style. Whenever possible, videos and photographs are presented to enhance topics being discussed.
JUST USE THE MENU ALONG THE LEFT SIDE
OF THIS SITE TO ENJOY ITS MANY FEATURES.
THANKS FOR VISITING
UNDERSTANDDOLPHINS.COM
Site Content

Understanddolphins.com contains information condensed from a number of reputable technical sources, peer reviewed journal articles, and respected dolphin research facilities, as well as from my personal experiences and observations as a dolphin VIP Tour Guide and Educator.

I have made every attempt to support the information presented in this site with video and still photographic images. On a regular basis I plan to produce more of these images and will continue to update the site with these as well as with any new and scientifically verified information which becomes available.